Ford Dismantlers & Spare Parts Melbourne
Cash for All Ford Vehicles: Cars Vans 4WDs & Trucks…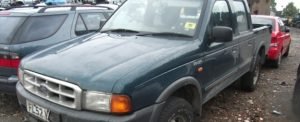 Ford Wreckers Melbourne is a Sunshine based automotive dismantler. For over 15 years Ford Wreckers Melbourne has been bringing quality, affordable Ford second-hand parts to Perth & Victoria customers wanting parts for their Ford's vehicles. Whether you need a part for a 1986 Ford Falcon or a 2008 Ford Focus, let us be your first port of call, we are happy to assist in finding you the part you need! Ford Wreckers Melbourne provide quality products to our customers at fair prices with honesty, courtesy, and integrity.
At Ford Wreckers Melbourne we can supply you with near new or second-hand ford car parts for your Ford vehicle. We stock a large range of Ford Spare Parts to suit passenger & commercial vehicles.
Wide range of spare parts for the following Ford models
Ford Falcon
Ford Fairmont
Ford Cortina
Ford Laser
Ford Courier
Ford Escort
Ford Fiesta
Ford F150
Ford Focus
Ford Escape
Ford Galaxie
Ford Fairlane
Ford Telstar
Ford Festiva
Ford Mondeo
Ford Focus
Ford Orion
Ford Probe
Ford Econovan
Ford RS 8
Ford RS 6
Ford RS Turbo
Ford Sierra
Ford Transit
Ford Explorer
Ford Territory
Ford Explorer
With our extensive knowledge of all Ford models, our friendly staff will be happy to assist you – offering a range of used, reconditioned and near new parts.
Parts we offer include Engines, Brakes, Interior, Car Batteries, Wheels, Brakes, Transmissions, Suspension, Air Conditioning, Electrical Parts, Pumps & Gaskets… There is so much available from our large Melbourne branch, just give us a bell and we'll get you a free quote for your next parts order.
Cash for Unwanted Ford Vehicles
Get up to $5,000 to have your Ford disposed of – any model, any condition or any age. If it's a Ford, we'll take it!
So, whenever you ask yourself what you are going to do with the old Ford sitting in your garage, don't hesitate. Pick up the phone and talk to our Ford customer service representatives on 0432 012 232. They'll be glad to provide a fast, no-obligation free quote for your old Ford.