Mazda Dismantlers Melbourne
Mazda Used Parts: 323, 626, Bongo, Familia…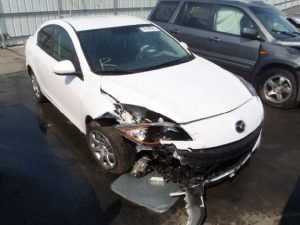 Mazda Wreckers Melbourne is a salvage yard specializing in Mazda car and 4wd spare parts. Our excellent service is a member of a huge network of Australia nationwide salvage yards, which ensures we get the right Mazda second-hand part Mazda Car Wreckers for you. Whether you're a Mazda car owner, collision or auto repair shop, or dealership, our task is to assist you.
For Genuine Mazda Used Parts and Accessories
Mazda Wreckers Melbourne offer a full range of genuine Mazda vehicle parts, accessories.
It is not possible to list all the parts we have available but below you will see a list of the range we have in stock.
Mazda CR Premacy, Mazda Familia, Mazda SP23, Mazda Verisa, Mazda Axela, Mazda DY Demio, Mazda tribute, Mazda MPV

Mazda Wreckers is Melbourne's number one stop for used Mazda spares and parts. With over 12 years in the industry, we have a large range of second-hand parts in stock for all Mazda models. Mazda Wreckers Melbourne can source brand specific or supply aftermarket parts like mirrors, bumpers, doors etc. If you would like to inquire about ordering your next part, please don't hesitate, contact Mazda Wreckers Melbourne today!

Mazda Wreckers Melbourne – Cash for Trucks & Utes

Old, damaged, unwanted, or plain old ancient – At Mazda dismantlers we'll do whatever it takes to assist you in responsibly disposing of your old Mazda car or Mazda truck, van or SUV and we'll give you up to $5,000 in cash on the spot for Mazda vehicle.

Sell your Unwanted Mazda to Wreckers

So, don't keep that old Mazda truck in your yard when it can no longer be of any use in running your business. Give us a call on 0413 927 850 or fill up the form in this page and we'll tell you how much we can give you for it.