Mitsubishi Dismantlers Melbourne
Mitsubishi Spare Parts Melbourne Victoria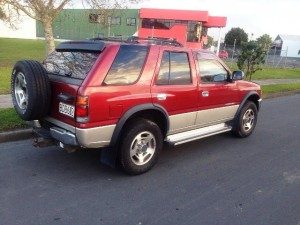 Have you been wondering lately what are you going to do with the huge piece of Mitsubishi vehicle taking up space in your backyard? Are you worried that is going to cost you a large sum of money to dispose of your unwanted Mitsubishi car?
Cash for Mitsubishi Cars 4WDs & Trucks
Our Melbourne Mitsubishi Wreckers pay cash for just about any Mitsubishi vehicle – no matter what make, model or condition. We also offer free removal from anywhere in greater Melbourne. Mitsubishi Wreckers buy any Mitsubishi models, dead or alive cars, trucks, vans, Utes and 4WD. We will buy your vehicle whether it's registered or not, running or not, wrecked or rusted away or even if it's been in an accident.
Mitsubishi Wreckers Melbourne & Dandenong
Mitsubishi Wreckers Melbourne supply 100s of quality used Mitsubishi parts every week:
Alternators, Mirrors, Bumpers, Radiators, Headlights, Doors, Taillights, Engines, Bonnets and more!
At any one time, Mitsubishi Wreckers Melbourne typically carry 500-plus vehicles in stock for dismantling, as well as an extensive selection of recycled Mitsubishi spare parts. Our experienced staff have excellent knowledge of both what is immediately available from our current stock and where to source Mitsubishi parts that are not obtainable in Melbourne.
Free Car Removal
Unwanted Mitsubishi Cars Removal
Car Disposal
Salvage Car Removal
Scrap Yard
Scrap Car Removal
Wrecked Mitsubishi Cars
Canter, Cedia, Challenger, Chariot, Colt, Delica, Diamante, FTO, Fuso, Galant, L200, L300
Lancer, Legnum, Libero, Magna, Mirage, Outlander, Pajero, RVR, Sigma, Triton, V3000…
Mitsubishi Wreckers service cover almost entire Melbourne region: Geelong, Melton, Sunbury, Frankston and Mornington.
So why not contact us today or send us an online inquiry to let us know about your requirements – Mitsubishi Wreckers Melbourne are sure that you'll be impressed with our efficient, no-hassles service and our quality second hand Mitsubishi parts at best price.
Resourceful Links: Brisbane Mitsubishi Wreckers, Mitsubishi Recycler Perth, Mitsubishi Used Parts